PATI Program Rekalibrasi
As we know that the government have released a new program called The PATI Rekalibrasi Program.
Date: Nov 16th 2020 to 30th Jun 2021
Purpose:
A special program to legalize part of illegal workers in Malaysia to become legal workers – Program Rekalibrasi Tenaga Kerja
Allow illegal workers to return to their country by self surrender – Program Rekalibrasi Pulang
Involved Department: Immigration Department of Malaysia (JIM) & Department of Labor Peninsular Malaysia (JTKSM)
For employer who eligible to apply PATI Program Rekalibrasi
As the latest rehiring program ( PATI Rekalibrasi Program) announced in a sudden and without any information, it caused a minor confusion to all local employers.
Fortunately, One Stop Manpower finally gathered all information. Below are 4 criteria to employer who plan to participate in PATI Rekalibrasi Program.
Company not blacklisted or under suspension list
Only available for 4 sectors: manufacturing, construction, agriculture & plantations
Subject to the quota approved by JTKSM
Comply with the conditions for hiring foreign workers
For employee who eligible to apply PATI Program Rekalibrasi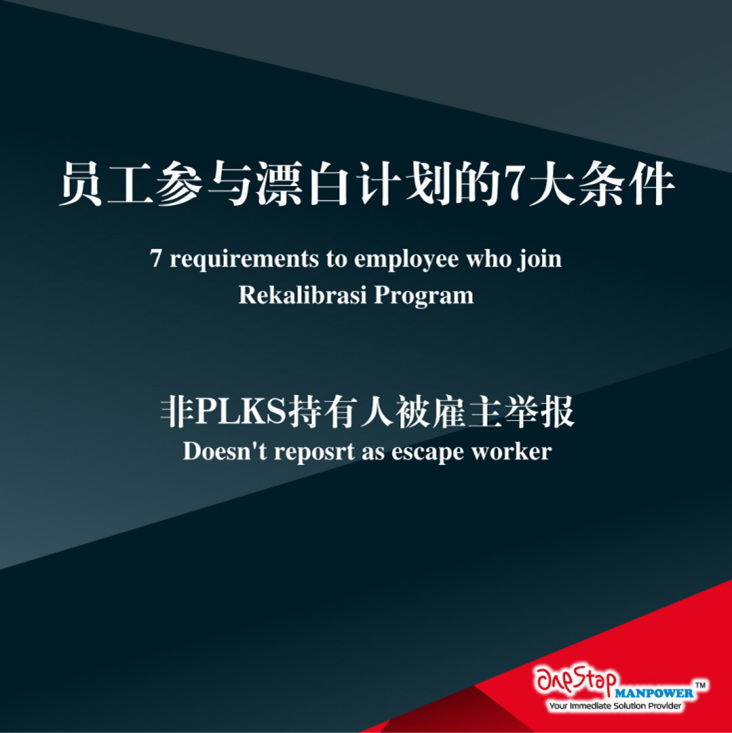 Age below 45 years old
Not in suspect list & blacklist
Valid passport at least 18 months
Holders of Social Visit Pass (PLS) which expired before 31/12/2020
Temporary Working Visit Pass (PLKS) which expired before 31/12/2020
Foreign maid
Not a PLKS holder who ran away from his/her employer
Negative result slip of COVID-19 test made within 3 days before the appointment with JIM
From 15 source countries ONLY

 Thailand
Cambodia
Nepal
Myanmar
Laos
Vietnam
Philippine
Pakistan
Sri Lanka
Bangladesh
Turkmenistan
O'zbekiston
Kazakhstan
India
Indonesia
Please do take note that employee must: –
Work under a proper company.
Have a proper job under a company which is not blacklisted or suspect list.
Service sector are not allowed to renew unless there is changes in the future.
Cost to pay PATI Program Rekalibrasi
Deposit: RM500 per foreign worker
Compound: RM1500 per foreign worker
Other fees:
Insurance
FOMEMA examination
Levy
Processing
PLKS
Visa
Covid test
Employers are only allowed to pay by credit or debit card, cash is STRICTLY not allowed.